Sister Liguori Rossner, founder and longtime Director of the 'Jubilee Soup Kitchen' in Pittsburgh and a person who has helped feed hundreds of thousands of Pittsburgh's hungry souls during the course of her long and distinguished career.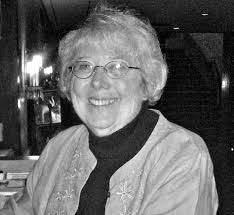 LEFT:
Sister Liguori Rossner tried her best to emulate another nun (now a saint) from Calcutta, India.


'The Loaves and Fishes Sister'
By appealing to corporations, unions, churches and individuals, the amazing Sister Liguori Rossner was instrumental in starting the famous Jubilee Soup Kitchen on November 12, 1979. She opened her bank account with an initial deposit of just $9.36. They made ten gallons of vegetable soup that first day and had their first 15 'customers'. By 1980 the kitchen extended its five days-per-week operation to seven days per week and it's been open 365 days a year since then.


She has fed hundreds upon hundreds of thousands of the city's homeless during her tenure as well as expanding their operation to include services for younger people. Among these additional services were: computer training, job skills and interview skills training as well as a Latino outreach program. In 1999, the Kitchen celebrated its 20th anniversary by renovating two abandoned houses and giving them to single mothers and their children. Sister Rossner's charitable acts seem boundless

Thomas L. & Mimi Gruber The Grubers were prolific parents and managed to bring 14 children into this world; but even more amazing than that feat is the fact that along with al of them being successful, three of their offspring have chosen religious life.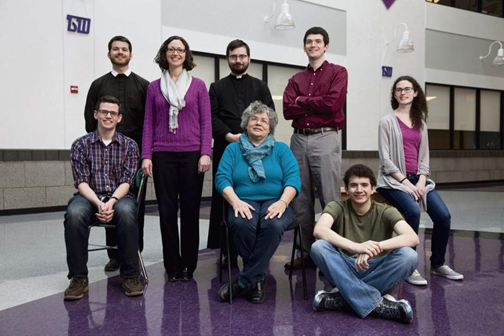 ABOVE: Mimi Gruber with seven of her 14 children in a 2016 photo.

Consider some of these amazing 'Gruber facts' for a moment!

• There was at least one Gruber at Baldwin High School each year for the last 23 years.
• The most Grubers at Baldwin High School at one time was four.
• There were 14 Grubers born in an 18-year time span, from 1979 to 1997.
• The Gruber children have between 13 ˝ months and 2 years between their births.
• All 14 Gruber children attended St. Sylvester School and Baldwin High School.
• 10 of the Gruber children were in the Baldwin Highlander Marching Band.
• Three Gruber sons have entered the religious life. Their son, Frederick, is an ordained Diocesan priest; another, Peter, is a member of the Pittsburgh Oratory in Oakland; a third son, Jacob, is currently attending St Paul Seminary.
• Seven Gruber are married while the remaining Gruber adult offspring have careers that cover the spectrum: financial analyst, teacher, nurse, electrical engineer, priest, focus missionary and diocesan seminarian.

Check out this article for more about the Grubers:
http://triblive.com/news/neighborhoods/southhills/10079115-74/gruber-class-baldwin


Fr. Joseph Scheib J.C.L., M. Div, M.A. (B.L.S. '68)

| | | |
| --- | --- | --- |
| | LEFT AND RIGHT: Father Joe Scheib (B.L.S. '68) has done the Latin School proud since 1968! | |

A good, faithful and holy priest of the Diocese of Pittsburgh, since his ordination 41 years ago, he has served with sensitivity and exceptional good humor as a parochial vicar at St. Anselm in Swissvale, St. Susanna in Penn Hills and St. Peter on the North Side and as the beloved chaplain for the Sisters of Mercy at their Motherhouse. He has also enriched the sacramental life of the faithful while in residence at St. Basil's in Carrick, Guardian Angels and St. Philip in the West End and Crafton. Beyond his pastoral ministries he is also a a respected Canon Lawyer, serving in the Diocesan Tribunal as a judge for more than a quarter century, he first served as an advocate and auditor. A respected member of the Canon Law Society of America, Father Scheib currently serves on the organization's Research and Development committee. In his career he was worked on several thousand marriage nullity cases and has served as a teacher for the diocesan advocates. We were most fortunate to have him join the BLS Executive Board in 2017 and look forward to being the beneficiaries of his wisdom and counsel in the future.
Our Executive Board takes great pride in recognizing the lifetime's achievements of Sister Liguori Rossner, Thomas L. & Mimi Gruber and Fr. Joseph Scheib and it is our hope that you will be present on August 18th to help them share in their big day!